September 25, 2023 | 7:30pm
MANILA, Philippines — In a world where first impressions can make or break your day, it's hard to deny the power of aesthetics. Smartphones, more than their functional purpose, have evolved to become expressions of personal style that enhance daily experiences.
Enter the vivo V29, unveiled on September 25, and it immediately becomes evident that this smartphone is more than just a device; it's a lifestyle accessory that complements one's style. 
Make no mistake, tho. The vivo V29 is not content with mere aesthetics. It offers a host of features and capabilities designed to delight everyday users. Here are some of the many things Philstar.com loved in our experience with the new vivo V29. 
1. Delivers stunning portraits
Everyone's into portraits these days, especially when they come with beautiful bokeh and great colors. And good for vivo v29, that's exactly what it delivers. 
Equipped with a 50MP IMX766V main camera, 8MP ultra-wide and 2MP depth sensor, the vivo v29 excels in snapping faces and moments, daytime or nighttime. Having brought it outdoors—in media coverages and in a night out with friends—proved this. 
Daytime photos we were able to capture are expressive and with rich contrast, without the saturation and vibrance levels feeling too excessive. 
Our favorite part, however, is the portrait mode. Putting it to the test in a well-lit area, the portraits we captured are beyond satisfying: they're detailed, the skin and color still look realistic and the blurred background doesn't feel forced. 
The portrait mode can be used at 1x and the default 2x magnification. Surprisingly, even at nighttime, the portrait mode still does pretty well. Subject detection performs great, and the camera produces good-looking portraits. 
2. No ring light? No problem!
The vivo V29's 'aura light' is undeniably one of its standout features, some sort of a built-in ring light right as if you have your own photo studio right in your pocket. 
The Aura light 2.0, according to vivo, has been upgraded with night algorithm. Technically, what this ring light does is help enhance colors in different lighting conditions.  
Say for example, in dim, blue-toned settings, the Aura Light 2.0's Smart Color Temperature Adjustment brightens faces with a cool Aura Light, restoring natural vibrancy. In warm lighting, it detects warm low-light conditions, casting a soft Aura Light to enhance the subject's face. 
Others might think that this feature is simply a gimmick, but after trying it, we think the aura light does help produce great photos even in dim lighting conditions. While camera flash, ideally, should do this, the aura light makes the lighting less harsh and shadow-y for a photo that's more flattering and has more balanced lighting.
3. Gen Z selfie-ready
Of course, we can't miss trying the trendy wide, Gen Z selfie shots, and what's good about the vivo v29 is that there are two ways you can achieve this. 
You can do it by using the rear camera in wide mode, and holding the V29 at a distance to capture more people in the frame. Plus, you can turn the aura light on for a better lighting.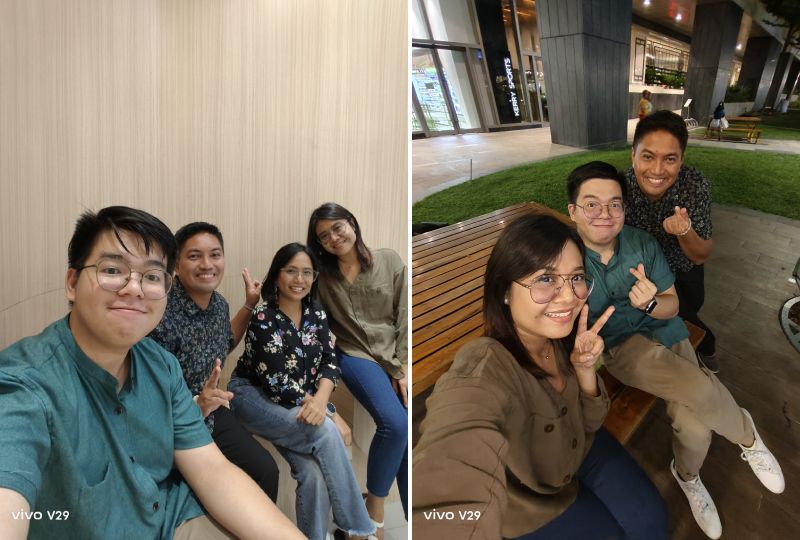 But it's not only the rear camera that snaps well in the vivo V29. On the front, the phone is also equipped with a 50 MP HD camera that snaps pretty clear selfies, and in wide-angle too!
The front cam allows for a 0.8x wide selfie which allows you to fit more into your frame, whether you're aiming for a horizontal shot or a vertical view of your surroundings. vivo V29's front camera ensures that everyone and everything you want in the shot can fit.
4. Capable and reliable
Beyond its camera features, this mid-range device has to keep up with your daily use.
Under the hood of the vivo V29 is a 6nm Snapdragon 778G that is 5G-enabled, paired with 12GB of RAM and up to 512GB of internal storage. As for our experience, this is pretty reliable and it delivered performance without hiccups. 
In terms of battery, vivo V29 is packed with a 4,600mAh battery that supports fast charging up to 80 watts. Especially with all the selfies and portraits you would take with the camera, you'll love that the device charges up real quick, from 1% to 50% in more or less 20 minutes. 
5. 'Aesthetic' phone that feels posh!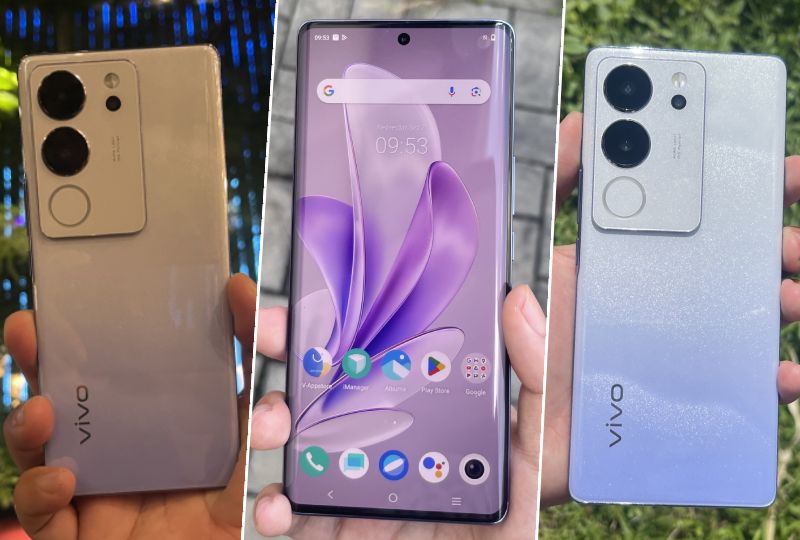 Apologies as we said in the headline, "beyond the sleek, pretty body," but we don't think it would do the vivo V29 justice without speaking more about its posh design. 
With a thickness of just 7.46mm and a weight of only 186g, it's undeniable that the vivo V29 is so slim and sleek. Plus, the 3D curved screen just have those nice curved edges that give a premium vibe in a smartphone. 
The vivo V29 boasts a 6.78-inch AMOLED screen with a smooth 120Hz refresh rate. Its high-resolution display also ensures crisp visuals for pictures, videos and text. And since it's AMOLED, you can expect vibrant colors and impressive brightness for a more immersive viewing experience.
At the back, the Starry Purple variant we have is exceptionally attractive. Its panel boasts a sleek and understated shade, adorned with a glossy finish. If you observe closely, you'll also notice delicate details on the rear that appear to shift as you tilt the vivo V29 at different angles.
Pretty mid-ranger vivo v29 now available
The vivo V29 combines striking aesthetics, solid camera capabilities and a beautiful display, making it a compelling choice in the mid-range smartphone market. 
With its arrival in the Philippines, this smartphone brings a touch of elegance and innovation to tech-savvy consumers looking for a device that not only looks good but also performs well. 
Vivo v29 5G 12GB RAM + 256GB ROM is priced at P24,999, while the 12GB RAM + 512GB ROM variant retails for P26,999. They're available at all vivo Concept Stores, dealers and kiosks nationwide, as well as on Shopee, Lazada, TikTok and vivo website.
---
Editor's Note: This #BrandSpace story is created with vivo. It is produced by the Advertising Content Team that is independent from our Editorial Newsroom. 
---